Venus Clone
Venus Clone
What do you want from an onahole? If you want durability, quality and realism, the Venus Clone is a masturbator you can't pass on.
Incredibly realistic masturbator
This design by Tomax has been praised as one of the most realistic ones on the market for a long time. While at first glance it might not look the most realistic, with its simplified and streamlined labia, the sensation it creates is hard to match.
Apply a little water-based lubricant and bring the Clone up to body temperature with a USB warmer if you have one. Push yourself against the labia and you'll feel this onahole swallow you eagerly, welcoming you into its warm tunnel. The first part is comparatively wide, a gently curved entrance lined with small nubs for extra stimulation. However, it soon narrows down into a tighter tunnel, squeezing you from every side and pushing back with every thrust. The tunnel curves down and up again, but that's not all: at the top are several areas for some extra stimulation. First, a large bump lined with subtle ribs, followed by a swollen G-Spot and the lowest part of the tunnel, and finally another little pleasure bump near the very end, where the tunnel tapers to a narrow point.
The combination of these shapes and textures combines into a surprisingly life-like experience. You can use the Tomax Venus Clone several ways: If you keep it upright, with the clitoral hood at the top, the bumps will glide over the top of your dick. If you turn it the other way around, they'll stimulate the other side. Switch it up for some varied stimulation, or even twist it while you're using it.
Durable, odor-free material
One of the things Tomax is most well-known for is their high-quality material. Made with a proprietary recipe, all their materials are very durable. As you might already know, repeated use can cause small or big tears in your masturbators. With Tomax products this happens much less easily, though of course you still need to exercise some caution.
In addition, Tomax onaholes have very little smell and release much less oil than other onaholes.
Intense stimulation or gentle and slow? You get to pick!
Not only does Tomax have an excellent recipe for their material, they also offer it in different levels of hardness. A harder onahole will feel firmer, keeping its shape better. This makes it feel a little tighter and make the different textures and bumps stand out more - though you can negate the latter by using a thicker lubricant. If you prefer mild stimulation or simply want your session to last longer, you can go for something on the soft end of the spectrum. Pliable and soft, this will feel even more realistic. With a softer Venus Clone the stretchy material will almost feel like it's clinging to you at times.
The shape and weight of your onahole will be the same for all materials. The Tomax Venus Clone is a medium-sized onahole, which is small enough to use with one hand yet thick enough to feel luxurious.
Whichever version you pick, you can count on excellent quality. Tomax toys are produced in a small facility in Japan, where each toy is made by hand and is inspected before being boxed. This dedication and quality control means that your onahole will be flawless, just like it should be.
Cleaning your Venus Clone
After use you can simply rinse the Tomax Venus Clone out in your sink. Make sure everything has been rinsed thoroughly, then dry it well. You can use an absorbent cloth for this or a special drying stick. If necessary, apply some maintenance powder to the outside to make it soft and dust-repellant. Lastly, store your toy in the plastic blister it was shipped in or use a special toy bag made out of breathable material. Keeping it away from heat and UV-light will ensure the longest lifespan.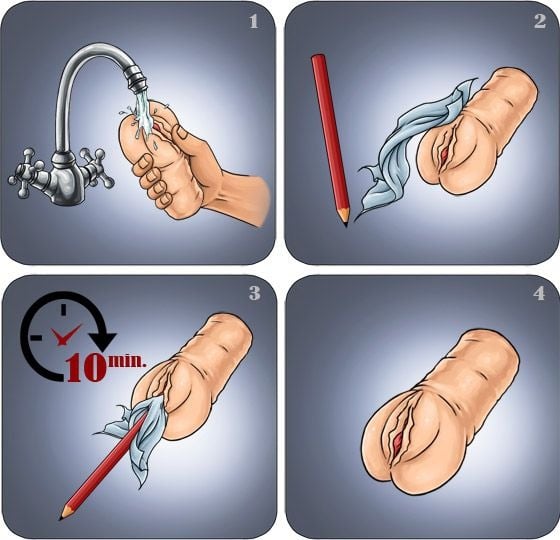 If you could clone an onahole…
We wouldn't be surprised if you picked the Tomax Venus Clone. Thanks to its realistic textures, excellent material and different hardness options this really is a toy that will be able to please almost everyone.
Tomax Venus Clone Measurements and Specs
Length: 17 cms Width: 10 cms Weight: 650 grams Manufacturer: Tomax Made in Japan
You may also be interested in the following product(s):