Venus Cross
Venus Cross
The Venus Cross is a quality masturbator by Tomax which is available in several different materials. The cross-shaped internal structure feels amazing and lends itself well to different ways of using this onahole.
Tomax's top-of-the-line materials
If you've had Tomax onaholes before, you'll already know it: no other brand has quite the same qualities as Tomax does. The recipe for their material is carefully kept secret, and while other manufacturers have tried to copy it, none have succeeded.
The first thing you might notice when you take your onahole out of the packaging is that the material has little to no smell and feels very pleasant to the touch. Cheaper onaholes, especially soft ones, can feel a little oily and sometimes even leave greasy residue, but that isn't a problem you'll have with Tomax onaholes.
Secondly, and perhaps more importantly, the materials Tomax use are made to last. They are more durable than most other materials, and if cared for properly, will last you a very long time.
Cross-shaped cross section: titillating texture
Unlike the Venus Real, the Venus Cross makes no attempt to mimic the anatomy of a real vagina. Why go for realism if you can get creative? If you spread the labia you'll see four sections, with the area between them forming a cross shaped tunnel. Each of these four sections is covered with small bumps, which gives extra stimulation without being overtly noticeable.
This structure does not run all the way to the back; after a couple of centimeters, there's a tubular section, which is then followed by another cross-shaped area, rotated slightly when compared to the first. At the very back is another plain section, which exerts gentle pressure without being too stimulating on your most sensitive areas.
The protruding sections feel great when you thrust back and forth, but if you want to try something different you can also use the Venus Cross by rotating and twisting it around you. Feeling the nub-covered bumps slide past you is a unique sensation, and switching between twisting and thrusting can add some great variety to your session.
The Venus Cross is a medium-sized masturbator and weighs around 650 grams. This weight means that it has a nice thick wall, which ensures you can't feel your own fingers through the sides of this masturbator.
Pick the perfect level of stimulation
Because Tomax knows that not every customer has the same preferences they have chosen to offer most of their designs in different levels of firmness. The Tomax Venus Cross is no exception: it is available in Regular Hard, Regular, and Soft. The Regular Hard is great if you enjoy a slightly more intense experience. Because the material is less yielding, it makes the onahole feel tighter and make the texture more noticable. If you get overstimulated easily, or take less time to climax than you'd prefer, you can pick the Soft version. This version is softer and stretchier, providing more gentle stimulation.
The lubricant you pick can also affect how the Venus Cross feels. A thicker lubricant will make the texture feel less stimulation, while a thinner lube will let you feel every detail but might also dry out more quickly.
How to use and clean the Tomax Venus Cross
Before use, apply plenty of water-based lubricant. Oil or silicone based lubes should be avoided, as they can damage your onahole. If you want, you can use a USB warmer to get the Venus Cross up to a comfortable body temperature.
When you're done using it -and we trust we don't need to go into detail on that aspect- rinse it out thoroughly under the tap, using your fingers to stretch the opening gently and to remove any lube and fluids from the inside. Since the Venus Cross doesn't have a very complicated inside it is fairly easy to clean. Dry it well, using an absorbent cloth, microfiber towel, or drying stick. To store it safely use the included plastic blister or a toy storage sack.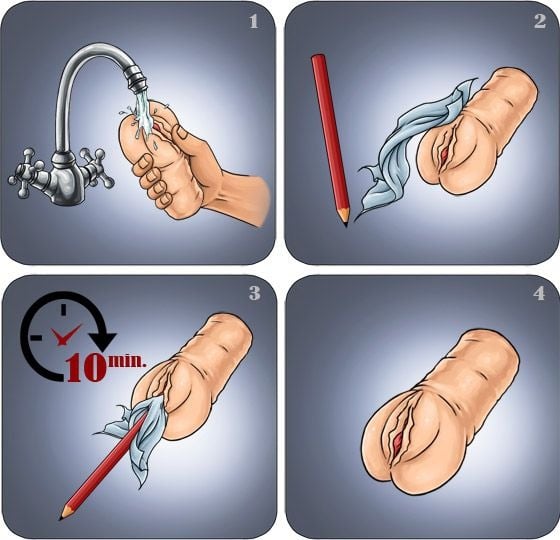 In short
The Tomax Venus Real is a combination of excellent material, stimulating design and excellent craftsmanship. This toy will last you a long time and deserves to be recommended!
Tomax Venus Cross weight and measurements
Length: 17 cms Width: 10 cms Weight: 650 grams Manufacturer: Tomax Made in Japan
You may also be interested in the following product(s):