Yandere XTC
Yandere onahole
The Yandere is one of the most well known archetypes in anime and hentai: devoted, loving, intense… And more than a little crazy and obsessed. She is willing to do whatever it takes to get close to you, and won't let you go once she has you in her grip. Thankfully, you won't mind very much since this onahole looks and feels amazing!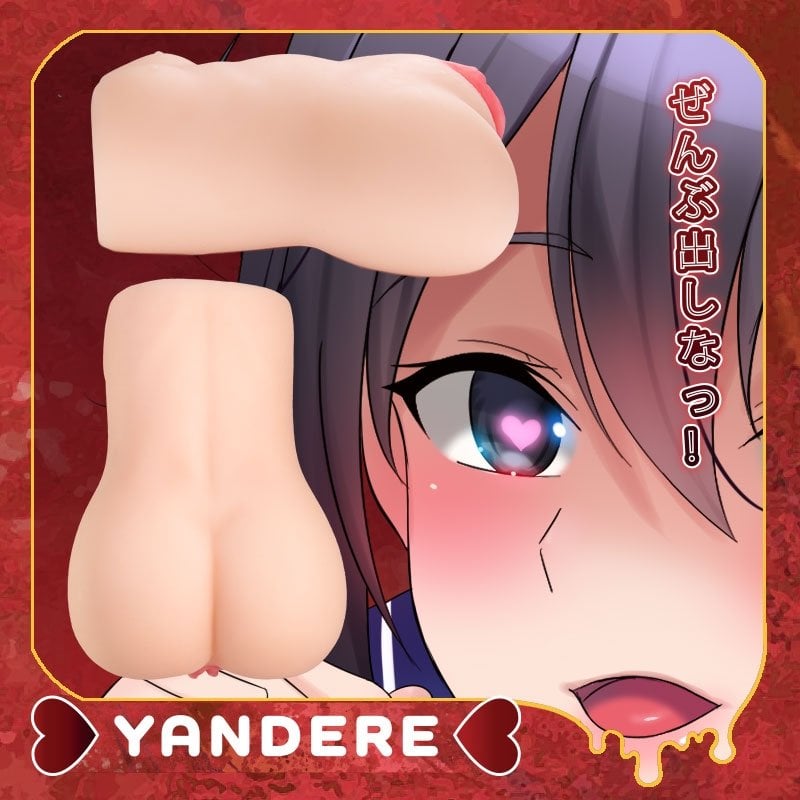 Yandere mini body
This onahole is shaped like a tight mini body: small breasts, a subtle curve for the waist, and beautifully detailed pink labia, complete with clitoral hood and clitoris. It weighs almost 700 grams, which means it's about as big as most people can comfortably use with one hand and big enough to use with two hands if you want to try some advanced moves.
The material feels soft to the touch and easily springs back into shape after you stretch or twist it. The labia and the inside of the pussy are made of a slightly different material: less soft, and more stimulating. This pink material is perfect for mimicking a woman's pussy!
The Yandere has thick, squishy walls which increase the grip and sensation. With lightweight onaholes, the tunnel will stretch without much resistance no matter the material, but these thick walls will squeeze you until the very last drop.
A tunnel that won't let go
The Yandere by XTC Japan has a simple yet effective tunnel design, as we have come to expect from this brand. Spread the Yandere's pink pussy lips and slide in, feeling the labia wrap around you. After a subtly textured entrance the tunnel tightens and angles down, guiding you past a double g-spot, the two bumps stimulating you in all the right ways. The rest of the tunnel is made up of a large number of rings, each formed by a large number of massaging bumps. Sliding back and forth past these feels amazing, especially with her narrow passage still clamped down around your shaft.
The yandere's design even generates a light vacuum, sucking you back in after every stroke… She does not want to let you go! To enjoy this effect to the fullest, squeeze out the air before you enter and use plenty of lube.
Yandere onahole: in short
The Yandere XTC onahole is a beautifully designed onahole with a dual-layer structure and a tunnel that'll have you coming back for more.
Onahole length: 15 cm
Onahole width: 11 cm
Tunnel length: 14 cm
Onahole weight: 695 g
Brand: XTC Japan
Additional Information
| | |
| --- | --- |
| Brand | XTC Japan |
| Number of holes | 1 |
| Number of layers | 2 |
| Open/Closed | Closed |
| Reusable | Is reusable |
| Bone structure | No |
| Theme | Anime |
| Tunnel length | 140mm |
| Product weight | 695gram |
Good choice Review by Onahole Connaisseur

I pondered whether to get this or something more expensive, but as I liked the design, considered the positive review and especially the price that was at 30€ at the time of purchase I bought this. No regrets so far after a couple of uses. It's not so overstimulating that it makes you insta nut, but it does feel good. It features a light vacuum effect and its size and weight make it possible to put it down and use it handsfree. Cleaning it is simple enough as there are no places you can't simply reach with your fingers, plus water. The only negative was the pretty beat up box, but I didn't really care about that. (Posted on 10/17/2022)

Insane value Review by DankmemerxD

This onehole gives you an insane amount of value for your money, i've owned roughly 8 onaholes but this is the only one who hasn't been torn or damaged.
The tunnel is completely intact after a few months of use, and the feeling is subpar to onaholes twice the price of this.
The only issue is that it drains lube and requires a bit of grip when you're going at it.

Overall a solid release and a stable in any persons collection. 4,5/5 stars (Posted on 9/11/2022)

exceptional price/performance Review by meep

By far one of the best onaholes in terms of price/performance!
it already is really cheap for the size and weight class alone but also somehow manages to still have good quality overall, being comparable to similiar sized onaholes that cost 80€+.
clear recommendation for pretty much anybody
(Posted on 5/26/2022)

Really cool Review by Someone

It's my first ona and I really enjoyed it. I can't compare it with anything else tho.
It's shape is amazing for the price and its size makes the experience even better.
The product arrived very fast , but the box was relatively damaged, product almost untouched. (Posted on 4/22/2022)

good choice Review by Chris

I can't draw much of an comparison but I'm very pleased with the product + it shipped and arrived very quickly. (Posted on 4/16/2022)

Awesome???? Review by Abderrahmane

Qualité incroyable , et sensation hors norme pour une si petite vaginette (Posted on 8/27/2021)