Sujiman Kupa Lolinco
Magic Eyes is a manufacturer that produces wonderful and very detailed toys.
The Sujiman Kupa Lolinco is a virginal toy. Whenever you buy an artificial vagina you are always the first one to penetrate her, but this elegant pussy is designed after that of a young virgin.
Enjoy a wedding night, again and again! As we are used to from Magic Eyes, the product and its presentation is very detailed. On the box you will find a Japanese Marriage License Application Form (a "Konin Todeke").
The Sujiman Kupa Lolinco has beautiful big labia, that protrude slightly. Of course, we know this as a 'Camel Toe' (Sujiman).
She is comfortable to hold and measures 160 mm in length. This artificial vagina weighs 452 gram.
Sujiman Kupa Lolinco Exterior:
The material is very flexible.
It is made out of mixed AG+ material. This means that the material is anti-bacterial.
This type of 'soft skin' material gives a good grip, without becoming too slippery too soon.
The flexible hybrid material is a combination of several non-harmful silicones. This new technology helps to create a skin that is smooth as silk.
Her perky boobs and her elegant waist make this onahole a piece of art, inside and outside!
Sujiman Kupa Lolinco Interior:
This double layered artificial vagina has a pink inside. This layer is firmer than the soft outside, giving you intense pleasure.
When you open her full lips, a soft wet pussy is waiting for you. The life-like inner 3D-structure is made to really give you the sensation of deflowering a young lady.
You slide in and feel the inside narrowing, after which there is a bend upward; where this pussy gets tighter and tighter the deeper you go.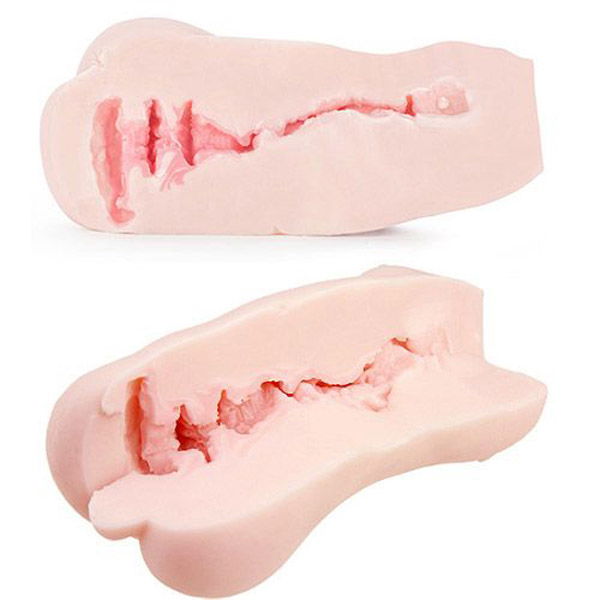 The Sujiman Kupa Lolinco is a really tight artificial vagina with a small vacuum chamber at the end. Above you can see two cross sections. The pink inner layer is not easily visible in the bottom picture, die to exposure.
The entrance is the best part. We would not be surprised if you pull out a few times, just to feel that sensation of entering again and again!
Sujiman Kupa Lolinco Characteristics:
Dimensions: 160 x 75 mm
Length of the Tunnel: 135 mm
Weight: 452 g
Additional Information
| | |
| --- | --- |
| Brand | Magic Eyes |
| Number of holes | 1 |
| Number of layers | 2 |
| Open/Closed | Closed |
| Reusable | Is reusable |
| Bone structure | No |
| Theme | Anime |
| Tunnel length | 135mm |
| Product weight | 452gram |
One of my favourites Review by S

It feels really good and can feel the detail inside one of the bad points is that it falles a bit short and would like it to be longer and after many uses it started to split apart but going to get the Lolinvco Virgo which should be even better. (Posted on 5/24/2021)

Very good feeling Review by Elias

The onahole came in two days and it feels really good the material is high quality and for this price you cant complain 5/5 (Posted on 4/23/2021)

One of the best Review by Philip

Got damage after about a month but other than that flawless (Posted on 3/29/2021)

Feels amazing, cleaning not so much. Review by JO_king

This onahole is one of THE best I had ever owned. Sadly, due to how difficult it is to clean, it eventually succumbed to a mold problem. Also beware of tearing at the entrance! I do miss this thing, and I'd probably buy one again if they ever made it easier to clean. (Posted on 11/27/2020)

Decent entry-level Onahole Review by Cdiddy

This a good entry-level Onahole, soft, easy to penetrate, enough stimulation, easy to clean. Besides that, there is nothing exciting or special about it, just a plain good Onahole. If you don't know what to buy first, I highly recommend this one! (Posted on 10/29/2020)

Great experience but might be too intense for some. Review by Jon

Feels great and tight, however the durabillity could be better. The Lolinco is also very stimulating and might overwhelm some more sensitive people. The product site could be better (inform dimensions of tunnel). Some small tears can be seen at the entrance already (only a few uses) suggesting it is very frail. (Posted on 5/28/2020)

A tight hole, not for the most sensitive cocks Review by anon

One of the better holes, for sure. Might have been a little too hard at times, climaxing hurts if I'm too fast (I do like to go overboard sometimes). Looks and feels sexy, and (for now) is quite durable! Not as hard to clean as I was told, drying is a bit tricky as the hole is very tight, but it hasn't given me too much trouble yet.
All in all, a great, stimulating product. If you're a bit more sensitive, like I am, probably not the best first hole, but a quality one nonetheless.
(Posted on 3/13/2019)

Best ever Review by AI

This is my second toy and I really enjoy it. (Posted on 10/24/2018)

Great feeling but fragile Review by Kuri

Sujiman Kupa Lolinco is a great product, for fine price. Its really soft in touch, looks great (these big lips looks really cute!) and don't smell that much after couple of uses. It also feels great (first use was the best). After 2-3 uses it started to rip and thats this onahole's weakest point. Durability of Sujiman Kupa Lolinco is even shorter if you have a thick member. After 5 weeks of use it really looks ripped. The tightness is almost none, but if you get a tight grip, then it still feels great. I can recommend this product, but if you're averege or bit, better invest in Sujiman Kupa Lolinco Virgo which is bigger version of this one (I'll definitely buy one, after this one will rip completely).
I give it 4 stars out of 5, cause its fragile and rip easly if you're big. (Posted on 7/9/2018)

Great product Review by Alex

Great product but a bit hard to clean and dry. (Posted on 5/5/2018)

Incredible feeling, durability a bit of a problem. Review by Bryphocy

This is one of the best onaholes i've ever had the pleasure of using, the entrance especially is absolutely incredible. My only hang-up with it, is that it didn't last all that long, i used it for 1½ - 2 months and it started getting ripped up on the inside, making the feeling less enjoiyable. Even with that though, its gonna be a good 2 months if you decide to buy this. (Posted on 5/3/2018)

best onahole i've had Review by iniwini

up until now this is one of the best onahole's i have ever had and used . it's already trashed now , but i do miss this one . if you don't know what to buy . this is definetly one of my recommendations ! (Posted on 3/15/2018)