Ju-C 7 Tight Embrace
Do you like to be in control… Or do you want to lose control? With this new onahole in G-Project's Ju-C (Juicy) series you'll start with the former and end with the latter, thanks to the spine-shivering pleasure this onahole brings.
A G-Project training onahole
G-Project shows us that an onahole doesn't need to be big to be fun and versatile: even though the Ju-C 7 only weighs 265 grams and measures 16 cms in length it offers more possibilities than many larger onaholes. The soft, transparent material allows you to see the feature that makes this pocket pussy so interesting: the three black rods that are spaced around the tunnel. The outside design is similar to the other onaholes in the series: a rounded cylinder with raised ridge at the front and a dimple around the entrance for easy insertion.
Ju-C 7's tunnel
The tunnel is very similar to that of the Ju-C 6, a tested and approved design. After the entrance there is a small area designed specifically to hold and reapply lube with every stroke. In terms of stimulation this is a nice ridge to slide past, but its main purpose is to keep lube from leaking out.
Then you slide into a long tunnel lined with countless ridged rings, where countless small protrusions provide stimulation. Because the material is quite soft the feeling isn't very intense or overwhelming - but you can ramp this up by using the pleasure rods!
The next part of Ju-C 7's tunnel is a small round room with flexible spiralling fins. Slowly pushing by these allows you to feel the ridges glide past you one by one, while going faster makes them blur together.
The final room is a little larger, but provides plenty of fun: several large round massaging bumps are spread over the chamber's walls. These smooth, soft half-spheres provide a massage for the sensitive tip of your dick.
Control the stimulation and intensify it
If you want to experience a really intense orgasm one of the best ways to achieve this is to build up to near-climax several times before finally allowing yourself to cum. This way of masturbating, also known as edging, can also help increase your sexual stamina.
While you can do this with any onahole the Ju-C 7 is perfect for it because you can increase and decrease the stimulation with minimal effort: simply squeeze down a little and the pleasure rods will get closer to the tunnel and increase the stimulation.
The pleasure rods are made of a material that is twice as firm as the transparent Momochi material. Squeezing them to the center quizzes the tunnel's textures against you more tightly, but the rods also have a texture of their own: they have a little zig-zag texture that adds a little extra.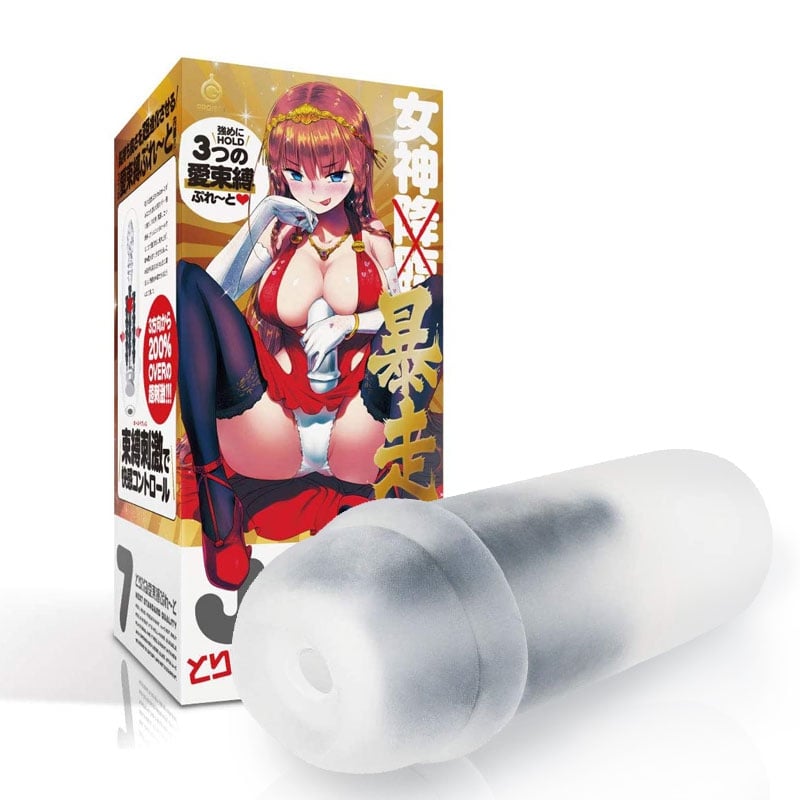 Make the experience even more varied by trying different patterns. For instance, do 3 strokes with squeezing and 3 without, or squeeze every time you pull out and release to slide back in. Experiment and see what you enjoy most!
Vacuum suction onahole
Even more features in this little onahole? Absolutely! The design of G-Project's Ju-C onahole forms a mild vacuum. To experience this, apply plenty of lubricant and squeeze all air out before you slide in. The onahole's opening will form a seal around your shaft, keeping air from getting back in. When you pull out of the onahole it will try to spring back into shape, pulling you back in. This suction increases blood flow, which makes the experience more pleasurable.
Ju-C 7 Tight Embrace in short
G-Project squeezed an incredible amount of fun into a very small and very affordable onahole. You can control the level of stimulation as you go, which allows you to tailor everything to what you enjoy most, or to create a training exercise to increase your sexual stamina and experience more intense orgasms. We think it's a great addition to the Ju-C series!
Onahole length: 16 cm
Onahole width: 5.5 cm
Tunnel length: 14.5 cm
Onahole weight: 285 grams
Brand: G-Project
Made in Japan, with high-quality Japanese materials
Includes lube sample and basic storage bag
Additional Information
| | |
| --- | --- |
| Brand | G PROJECT |
| Number of holes | 1 |
| Number of layers | 1 |
| Open/Closed | Closed |
| Reusable | Is reusable |
| Bone structure | No |
| Theme | Anime |
| Tunnel length | 145mm |
| Product weight | 385gram |
A solid toy with lots of positives, but less unique than expected. Review by J

A surprisingly compact design, feels great in the hand from all angles and positions, and provides great sensations.

The image accurately represents the transparency of the unit, not enough to leave you looking at it, but enough to get an impression of yourself inside if that's your kind of thing. Definitely not as transparent as some other see-through holes. This does understandably fade away a little bit after application of any powders.

The USP of this hole, the plastic ridge "pleasure rods" were a bit of a disappointment for me. They definitely contribute to the overall tightness of the hole, which is definitely felt on first penetration, but comes up nicely snug during use. However the sensation of these ridges are underwhelming, and they mostly just provide a bit of rigidity to the base. Over time and usage, the material around the rods has shifted slightly, so the rods themselves are floating around in a small section of empty space. This has not affected the sensation at all, but may be a concern for longevity.

A solid top layer at the base of the tunnel means you don't have to worry about damaging or splitting the end of the tunnel. Overall the materials feel solid.

Something about the hole's material seems to hold its slickness for longer without needing the little top ups for longer sessions I sometimes need on other holes.

The design of the double entrance feels great upon insertion, requiring a bit more lubricant than usual around the concave outer lips. This design also leads to a little bit of lubricant leakage when upright, but nothing to worry about. This design also leads to quite a noisy experience in use and seems unable to quite get the same vacuum effect as advertised, as is achievable on other holes.

Care and cleaning is extremely easy with the open entrance design and straight canal.

Overall, a great experience and has been my go-to for some periods. You won't regret this one. (Posted on 10/12/2022)