Puni Fuwa Mochi 2000
Puni Fuwa Mochi 2000 introduction
The Puni Fawa Mochi 2000 is of the same makers that brought out the popular Puni Ana series. Outvision is the name of the company behind the brand named 'EXE' (known for the Puni Ana DX, SPDX, Julia+, etc). This company besides EXE also has a brand line named PxPxP.
From the products of PPP comes the Puni Fuwa Mochi 2000.
The Puni Fuwa Mochi 2000 is mainly made for use in a doggy style position. The flat underside of the legs ensures that she keeps lying in her place.

But she is also good to use if you turn her around, the vagina looks beautiful and inviting from every side. Due to the relatively small size and just 2kg she is usable in almost every position.
Puni Fuwa Mochi 2000 unpacking
The box has an image of a manga figure who pulls her string between her labia and curls her toes in her little socks.

When you open the box you find the hip, a bottle lubricant of no less than 120ml and a fold up panty that fits around the hip :).
The inside
This hip has two tunnels; a vaginal and anal, the hip is made out of one kind of material.
Both tunnels end in a 'sperm exit', which makes cleaning easy.
The Puni Fuwa Mochi 2000 is an open-hole masturbator and you can that your penis goes through the back (unless you are shaped smaller than 12cm).


Because the backside is open, you don't have vacuum and you can penetrate this hip at a higher speed. The bumps in the vaginal tunnel and the curves will ensure that the Puni Fawa Mochi 2000 feel very good.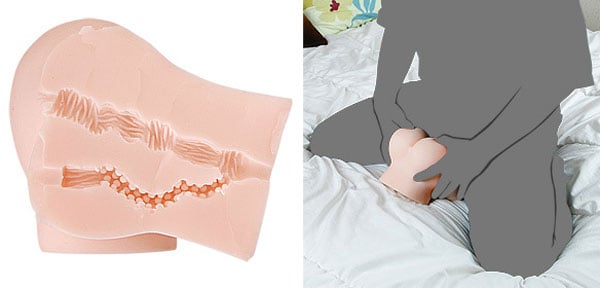 On the image above you can see the cross section of the two tunnels, the anal tunnel is the upper one and the lower one is the vaginal tunnel.
The anal tunnel flows in a line diagonally downwards and feels tight, the vertical and horizontal ridges provide a delicious experience.
Cleaning:
The cleaning is easy due to the relatively short tunnels and the open end. You can hold the Puni Fuwa Mochi 2000 under the tap easily due to her weight. Keep in mind that you place something under or behind this hip, when you use it, because the sperm will shoot out of it.
De Puni Fuwa Mochi 2000 Onahole afmetingen:
Length: 17cm (6.7 ")
Width: 22cm (8.7 ")
Length: 14cm (5.5 ")
Weight: 2kg (4.4 lbs)
Inclusive the panty, random color, we had 1 that was pink-white and striped.
Bottle of 120ml lubricant delivered along in the packaging of the Puni Fuwa Mochi 2000.
You may also be interested in the following product(s):