Kaitai Shinsho
Kaitai Shinsho
Magic Eyes are breaking ground in the sex toy industry. We have been selling artificial vaginas since 2008, but this is a real novelty!
We proudly present the first artificial vagina with internal bone structure.
No dual layer, but quadruple!
Magic Eyes have designed the Kaitai Shinsho after the anatomy of a young woman. But they did not stop at making just an artificial vagina: this is a smooth masturbator designed as a full size female torso.
A striking feature is the internal bone structure. Because of the artificial skeleton, this onahole retains its beautiful shape. The bone structure is very detailed and contains ribs, a spine, a hip bone, and even a pubic bone.
Magic Eyes have used what they call the 'Quattro Structure', indicating the use of four different types of material.
The exterior is made of a soft and smooth material that feels like the skin of a lovely young woman. The bone structure is harder yet flexible. The interior is made of a stimulating material in combination with a soft gel.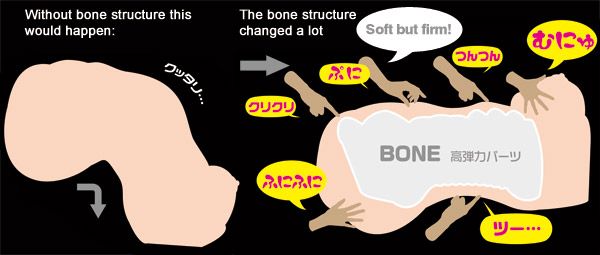 The voluptuous breasts and the onset of the legs contribute to the realistic look, and create a soft and springy effect when you are enjoying the Kaitai.
Kaitai Shinsho - an extremely strong vacuum:
The tunnel is slightly bent, with a narrow pink entrance. The interior membranes and the texture with studs and ridges cause gorgeous stimulations.

The Kaitai Shinsho comes with a small coin that can be inserted in the back. This will create an extremely strong vacuum, like we have never experienced before with larger artificial vaginas.

The counter-pressure and suction power that are generated enhance the stimulation significantly!
Also, this artificial vagina can be penetrated by thrusting your hips. You don't need to move it up and down, making it a very realistic and delightful experience.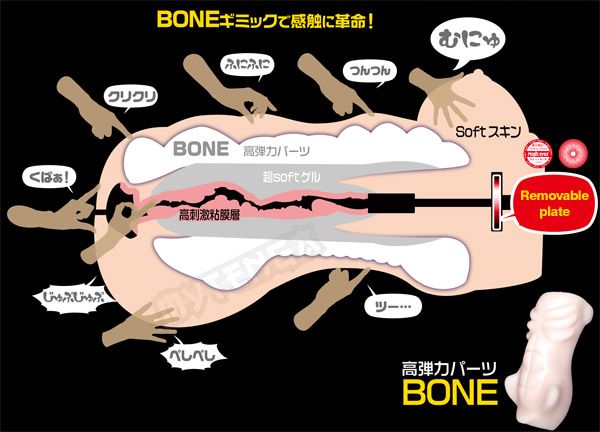 You can also enjoy it without the coin and the vacuum.
This system makes the Kaitai much easier to clean than other vaginas that are closed off.
The Kaitai Shinsho provides you with pleasure and comfort.
Cleaning the Kaitai Shinsho:
Cleaning is much easier than with other onaholes. Because the back is open, you can simply rinse the interior with water. By running your fingers along the interior wall at the same time the Kaitai will be cleaned well.
Drying:
It takes a little more effort to dry the Kaitai. Because of the bone structure, you cannot simply wrap a towel around your finger. This may damage the interior structure.
It is better to wrap a microfiber cloth around a thin rod. You could straighten a clothes hanger and wrap a microfiber cloth around it.
Insert it in the vagina and carefully push it through, so that you can extract it from the other side. Do this slowly, so that the cloth can absorb the moist and the rod does not damage the interior.
Take your time for drying the Kaitai Shinsho, and it will last a long time.
Dimensions: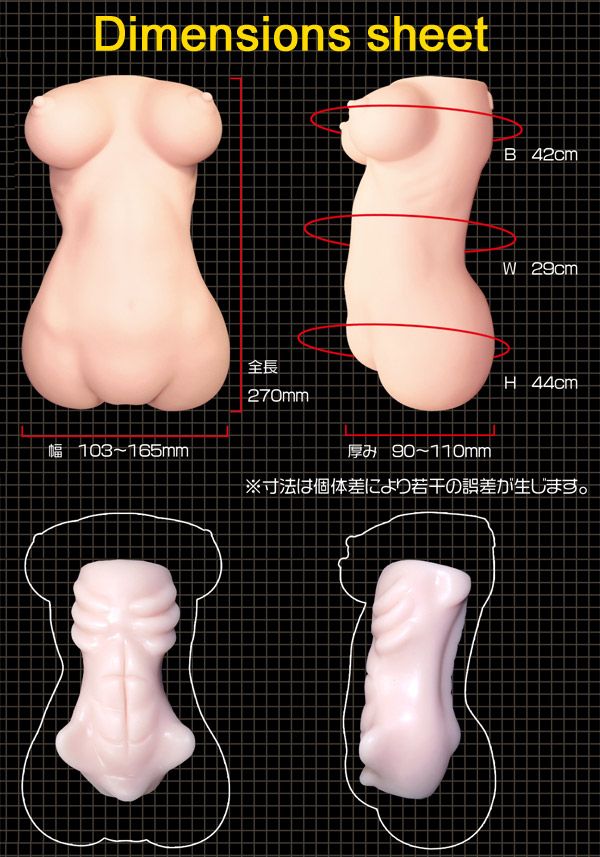 Length: 270 mm
Width (front): 103-165 mm
Width (side): 110 mm Chest size: 420 mm
Waist size: 290 mm
Hip size: 440 mm
Weight: 2kg
We are really impressed with the Kaitai Shinsho; it is an amazingly realistic artificial vagina. The internal bone structure helps to retain its attractive shape when in use. This fantastic toy has the following features:
Kaitai Shinsho Features:
- Weight 2 kg
- Quadruple layered material
- Internal bone structure
- Can stand up straight
- Alternate between a strong vacuum and a less intense open tunnel
- Soft and smooth skin
- Flexible
- Firm breasts and bottom
- Narrow entrance
- Easy to clean
- Unique design with many details
- Lubricant included
- Poster included
- Powder for maintenance included
Additional Information
| | |
| --- | --- |
| Brand | Magic Eyes |
| Number of holes | 1 |
| Number of layers | 3 |
| Open/Closed | Closed |
| Reusable | Is reusable |
| Bone structure | With bone structure |
| Theme | Anime |
| Tunnel length | 130mm |
| Product weight | 2063gram |
very nice until the end of horrors for girthy bois Review by Filip

This one feels really good with the suction and all but this is also a double edged sword. There is a bump in there that is pressing against the urethra and at climax it blocks it since it is so tight and then give you some real pain. Ofc this varies on girth sizes.

I had to cut it open and remove some of the skeleton structure and then glue it up. it now works better. (Posted on 2/12/2022)

Really good for the price Review by Sam

The suction and the size of the toy were the biggest plus for me, could have been bigger though. (Posted on 12/8/2020)

Really nice but quiet smelly for the first times Review by Christian

I just bought it recently and really looked forward to it . But my first impression was its the first times extremly smelly.

The kind of typical chemical smell those toys get. Compared to the Penta Hips Dx, that i got for quiet a while now, the smell is much stronger.

I rememberd pretty good that the smell of the dx worn of after a week using and washing it with care. It annoys me that its is so hard for the smell to worn off.

And exept that the Kaitai Shinsho is relly nice.
It feels greate and the vacuum is pretty good.
Its also nice to handle.

Sill its quiet hard to clean such toys without tools
but well thats how it is.

All in all a greate feeling toy for a good time (bit smelly) and a extremly fast delivery.
(Posted on 11/29/2018)

Pretty good despite its cost. Review by Amazon Buyer

If you are looking for a budget toy that is equally as enjoyable, get the La Bocca della Verita (LBDV). This toy's main appeal is its structure and suction whereas the LBDV has its teeth and intricate nubs to blow you away.

I have used the Kaitai Shinsho once and I would say it is worth the price. Be warned, inserting the coin into the toy has destroyed the bone layer for some users so I would personally advise to not use it. Air drying seems to be the best option as the bone layer has been broken by users either through regular use or in the cleaning process. (Posted on 7/21/2018)

Amazingly pleasing Review by Melvin

Design is great and it feels very good in your hands and most importantly when thrusting into it. The vacuum is every bit as good as advertised - the only thing I would do better, is to equip the sealing "coin" with a one-way valve, and then it would be perfect. But since the top cavity is smooth and longish, with little time and effort, you can craft a "lipstick" sized valve that won't leak ... that is, if you think it is worth investing time in it.

However, the silicone is too thin on few places, near the skeletal structure, and indeed, my toy ruptured in one of these places already on 4th usage. This is either manufacturing issue (if the layer is thinner than it should be) or a design issue.

Dear MotsuToys, please add information about the material and add an appropriate glue/repair kit into your catalogue. (Posted on 5/22/2018)

génial!!!!<3 i love! Review by James

des fleshlight au meiki no shumi,
jaie choisi celui la!!! grosse grosse décéption après 2 ride la structure intèrieure a cassé et réduit la sussion du jouet!! mais grace au pro a qui ont a a faire j en aie recu un nouveau!!!
juste amazing!!!<3 c est un régale la pénétration est très sérré mais avec un max de lub j éjaculation est programmé d avance!!! impossible de résister!!!!
Un must have les mecs!! garantie et je le recommande pour moi et a vous!!!!!!!! trop trop bon!!!! (Posted on 1/7/2017)

Nothing compares Review by Aceiki

After many fleshlights decided to try something new and this was mind blowing. On top feeling fantastic it can be turned and the sensation changes also you can use the plug to create suction that makes 4 different sensations and all of them feels amazing. If your thinking of getting it go for it you will not regret it. (Posted on 1/4/2017)

Speachless Review by Bu

Kaitai was my 2nd one i ever got and i became the one-pump-chump, the entier thing just blows your mind. (Posted on 8/20/2016)

Feels to good :) Review by Brain H

It is not the best quality that magic eyes offers, but inside, it's a real challenge to last very long. The inner layer feels amazing!! (Posted on 2/26/2016)

Another great product from Magic Eyes Review by Bob1977

The Kaitai is not my first toy, i already own the Meiki 5 from N.P.G. and since the La Bocca i am a fan of Magic Eyes.

When i came across the Kaitai, i just had to try it out.

It's a great product, if this product was 2 or 3 times its size, it was totally mind blowing.

But the Kaitai was surprisingly large, you can't really compare it with an "ordinary" onahole like the Meiki 5.

When you put it on the table with the back facing you (tits on the table) the tunnel really feels different! The sturdy structure and suction make this my favorite toy at this moment.

Because the kaitai is quite big, it needs a bit more maintenance, but luckily there is powder included with the product.

In short, i highly recommend this product and the delivery was fast as always. (Posted on 12/11/2015)

Recommended Review by Michael

I recommend customers to buy products from Motsutoys. Top quality, short delivery times 2-3 days also abroad. (Posted on 10/13/2015)

trés bel article Review by Alain F.

trés bel article
et de bonne qualité ,pas trés cher et qui plait beaucoup!
(Posted on 10/6/2015)