Bubble Butt
Bubble Butt
Toy's Heart is one of the most loved onahole producers out there due to the consistently high quality of their products and their attention to all aspects of the product. Until now, they have mostly made small or medium sized onaholes, but the Bubble Butt weighs an amazing 2580 grams! It's one of the most realistic anime asses out there.
The packaging
The large box features a cute brunette, bending over and exposing her ass to you. She's looking over her shoulder at you while she touches herself. Looks like she can use some help!
When you open the box you find something really unusual: a large, sturdy styrofoam inset. Most toy manufacturers use a transparent plastic insert, and while this works fine, this inset by Toy's Heart is even better. You can re-use it to store the toy safely and discreetly.
Dress her up, or undress her!
When you take this hip masturbator out of the box you'll be amazed at its weight and size. It measures 23*22*16 cm (L*W*H), and that means the Bubble Butt is large enough to wear real panties, and if you want you can even dress her up with a cute schoolgirl skirt. While the Bubble Butt doesn't include any clothing, if you buy a size Small or Extra Small it is likely to fit.
What an ass!
As the name already suggests, the Bubble Butt is shaped like a nice round ass. It is made out of high quality TPE and you can touch, squeeze and slap this butt as much as you want.
Her ass and pussy stick out and look very inviting.
The tunnels
Of course this hip masturbator features two complete tunnels, a vaginal tunnel and an anal one. The tunnels are distinctly different, each enjoyable in their own way.
The anal tunnel starts with a deliciously narrow entrance, after which you come into a stimulating room filled with spiralling ridges and waves. The tunnel curves down and back up again, passing a so-called "pleasure spot" before changing into another ridged chamber. At the very end it narrows again, merging into the vaginal tunnel.
The vaginal tunnel also starts with a tight area which forms a seal around you, keeping lube from leaking out. After this you enter a room full of detailed nubs which will rub all over you. Pushing past this, the tunnel narrows, leading into a stimulating tunnel with three different pleasure spots that rub over the bottom of your penis. The nubs and subtle ridges are all incredibly well-designed, and you won't be able to get enough of it! At the very back the tunnel ends with more nubs, a simple yet very effective structure.
If you can't pick your favourite tunnel, we won't judge - they're both great! Switching between them also feels great and helps keep the sensation fresh. If you're looking for something else try try, put a bullet vibrator in one tunnel while you use the other!
Perfect for hands-free use
Thanks to its size and flat underside the Bubble Butt is ideal for using hands-free. If you put it on the bed it will stay in place and not move around like some smaller onaholes do. Of course you can also bounce the onahip up and down in your lap, or place it against a wall.
Cleaning
Cleaning larger onahips can be a little difficult because they are heavy. This is one of Toy's Heart's main reasons for not producing larger masturbators before; they want their onaholes to be easy to use and easy to take care of. You can definitely see that they considered this in the design: the two tunnels are connected at the back, which means you can let the water run into one hole and out the other, cleaning it efficiently. While the tunnel's structures are detailed and varied, there aren't many hard-to-reach nooks and crannies.
Drying your onahole is important as well. The easiest way to do this is to push a piece of absorbent cloth inside with a blunt stick, for example the back of a pencil. Leave it in there for a couple of minutes to absorb the last bits of moisture and you're done!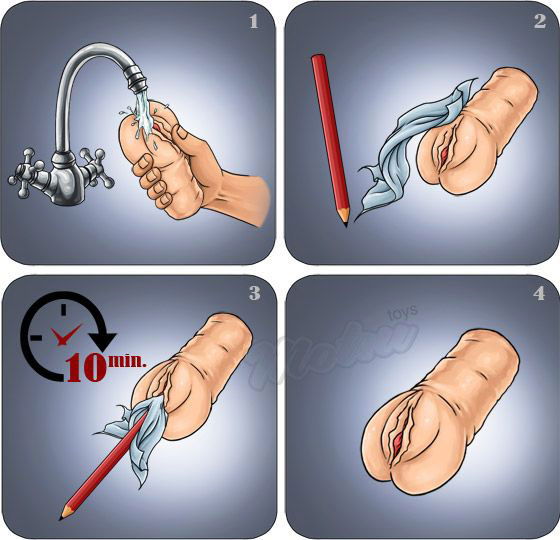 In short, the Bubble Butt onahip by Toy's Heart is an high-quality product with two excellent tunnels which are sure to bring you pleasure again and again. If you've tried this brand before you already know it won't disappoint!
Total length 230 × full width 220 × internal length 160
very good product from Toysheart Review by Den

I didnt purchase this toy here but i still want to make a short review the product both tunnels feel very nice and different you dont have to worry that much about that its single layer. The toy is also very easy to clean and really worth the money. This was my first onahole for me and i dont regret this purchase. Still have a lot of fun with it. (Posted on 9/30/2018)

Good hump Review by Anon

Extremely pleased with the bubble butt.
Some reviews on other sites have mentioned the anal hole being perhaps of a tighter sort, but I don't really think that's the case at all. The material is in the softer end of the spectrum making insertion very easy perhaps at the cost of some sensation but none that I thought was lacking, I wouldn't have it any firmer with this toy.

The holes being connected does come with a slight drawback to the vacuum mostly on the anal side. Inserting into the vaginal tunnel you sort of close up the entrance to the anal tunnel so the vacuum isn't nearly as lost there and in general the vaginal tunnel has a much meatier feel to it with it being better in the center of the toys mass.

For positions the toy is quite restricted that it is definitely at its best laying on a surface on its flat bottom.When you sit it down on its flat side, there's plenty weight and surface are so it's going to stay in place. It's quite cumbersome to bounce on your lap because of the softness of the material and the structure being so elongated with the arching back, which aesthetically is pretty darn nice when pushing it from behind btw. Against a wall the vaginal entry is in quite a hard to reach spot but the anal tunnel is well accessible. Again it's a little difficult to have a good hold of, but cupping it by the buttcheeks does well enough. The ass fits nicely in hands so squeezing it around in any position is plenty fun.

For clean up the size of the toy, as to be expected, is going to cause some trouble. Not only that but also the softness of the material makes it more so difficult to keep it under a tap. However the holes being connected certainly is a big help for most part. Best way I've found is sitting the toy on its flat side and using a hose to run water through one hole and out the other and so the cleaning goes quite quickly with little hassle. There's not many folds and nooks in the tunnel or other parts so drying goes quite easily as well.

I wasn't personally concerned with the dress up idea, so I haven't tried fitting it with any clothes.

Overall a big recommendation for anyone looking for a hip that goes really well for doggystyle and some round buttcheeks to fondle. (Posted on 5/22/2018)
You may also be interested in the following product(s):