Tenga Flip Zero Black
Tenga Flip Zero Black

Tenga's Fliphole series is immensely successful, but instead of leaning back and enjoying their popularity, Tenga continues to innovate and improve their products. After the Fliphole and the Flip Zero, they have released a more intense version: The Flip Zero Black. Are you ready for an all-new, highly stimulating experience? The Flip Zero Black will bring you to orgasm in no time at all!
Stylish Design
The brand Tenga has developed a reputation for producing gorgeous sex toys with a very discreet appearance. In fact, Tenga toys are so sleek and well-designed that people that are not familiar with the brand and its products won't believe they're seeing a sex toy when you accidentally leave it lying around. And the Flip Zero Black is no exception: the design is so cool, it could easily have been produced by Apple or Toyota.
Tenga has some very experienced designers on board, and the outside of the product reflects this: The seamless entrance makes for an even closer fit, ensuring that absolutely no lubricant will leak from the Flip Zero Black.
Flip Zero Black: Tighter and more intense
This excellent masturbator has a wide variety of internal structures. After you pass the leak-proof seal the real tunnel starts: geared edges give intense stimulation, and when you are all the way inside these delicious nubs will stimulate the bottom of your shaft. Next are the "cross ramparts", ridges which move back and forth with every stroke. The dynamic flick orb follows: one side of the Flip Zero Black pushes you into the other side, where a flexible ball covered in nubs glides all over your shaft. At the very end, another orb awaits you, this time covered in flowing, wavy ridges.
The tunnel as a whole is a little tighter than the original Flip Zero, and the material is a little firmer, ensuring that you'll feel every little detail.
The experience the Tenga Flip Zero Black gives you is impossible to describe in words, it's something you simply have to experience!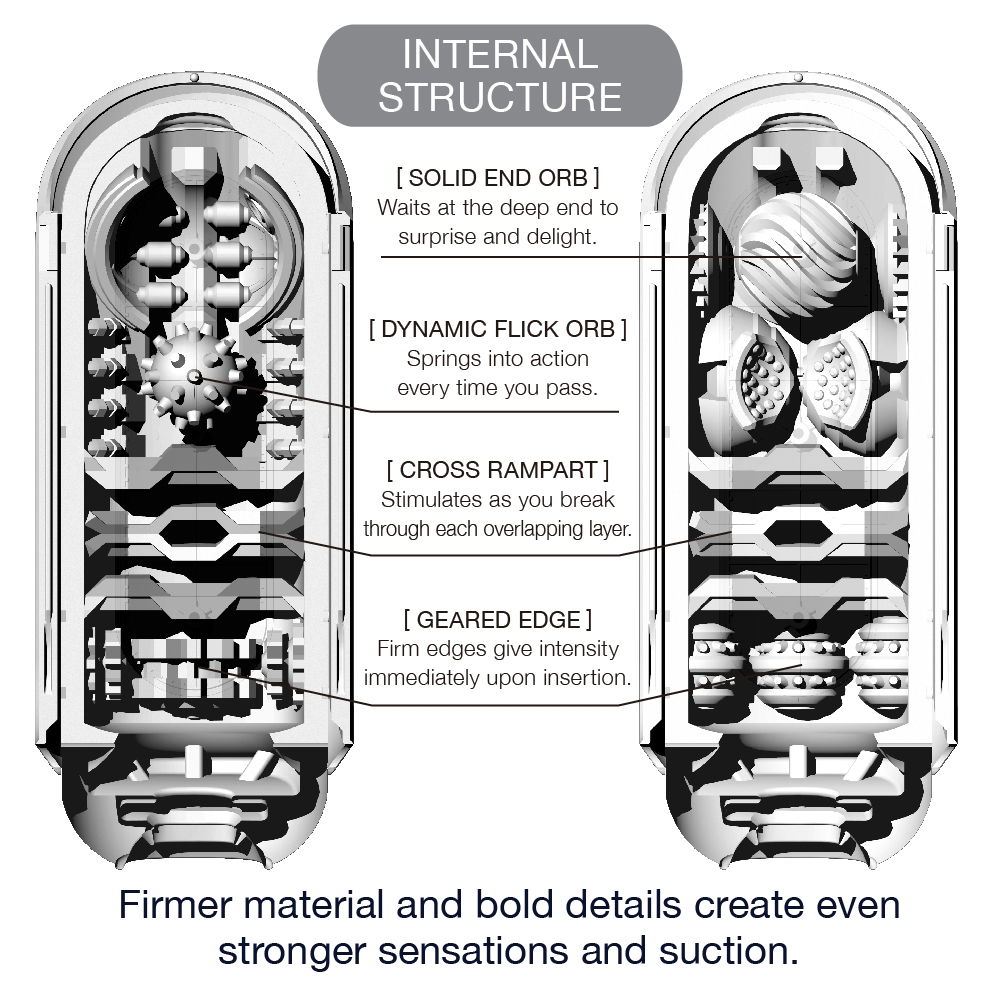 Flip Zero Black Vacuum
While this exciting structure alone would be enough to bring most men to a climax swiftly, Tenga doesn't stop here. Like the other Flip products, this one also creates an excellent vacuum by using a one-way valve. Squeeze the air out while sliding into the toy, and after that the Tenga Flip Zero Black will suck you in with every movement.
Cleaning
In case you're wondering how on earth you're going to clean all those little nooks and crannies… Don't worry! When you slide off the plastic sides, the Tenga Flip Zero Black simply flips open. Rinse it under the tap, and use the plastic sides as a stand to let it dry. It doesn't get easier than that!
Unlike anything you've felt before
If you're always looking for new, more intense pleasure, the Tenga Flip Zero Black is the toy for you. Between Tenga's stylish design, the high quality material, the amazing tunnel structure and ease of cleaning this is one of the best toys we've seen in a long time.
Properties
Diameter: 70mm
Width: 80 mm
Length / Height: 180mm
Weight: 470 grams
Includes free lube sample
Additional Information
| | |
| --- | --- |
| Brand | Tenga |
| Number of holes | 1 |
| Number of layers | 2 |
| Open/Closed | Closed |
| Reusable | Is reusable |
| Bone structure | With bone structure |
| Theme | Neutral |
| Tunnel length | 165mm |
| Product weight | 470gram |