Young Proprietress's Hospitality
Young Proprietress's Hospitality
Toysheart releases a steady stream of great onaholes, some striving to be as realistic as possible, others trying out new and unusual structures. This one falls in the second category. Want to know more? Read on!
Eager to please
The character on the box is a young, hard-working woman, wearing a tight kimono with an unusually deep cut. She recently bought her own business, and she's very eager to make sure the customer has everything they want. Tea? Right away! More cleavage? If it pleases you, sir! She will do everything necessary to make sure you leave satisfied.
Triangle structure
The Young Proprietress 's Hospitality onahole is made out of Toysheart's special TPE blend, which aims to give realistic stimulation. The outside of this onahole is sleek, with a gentle curve that's easy to grab and some simplified labia. Because of its shape and The entrance of this onahole is a simple hole with a narrow groove around it to catch any lube and keep it from making a mess.
When you push inside, the special structure envelops you right away. The tunnel is somewhat triangular, with three wide "bulges" covered in smooth ridges pushing at you from three sides. This triangle structure spirals, so each bit of your penis experiences more intense and more mild stimulation with every stroke.
Cleaning
The Young Proprietress's Hospitality has some deep grooves on the sides, so make sure to pay these some special attention when leaning. Thoroughly rinse the onahole under the tap, cleaning out these three grooves, then squeeze out as much water as possible. Finally, dry the insides by inserting a soft absorbent cloth and letting it sit for a couple of minutes, absorbing the last drops of water. If the toy starts feeling a little rough or sticky simply dust it with some baby powder and it will feel as good as new.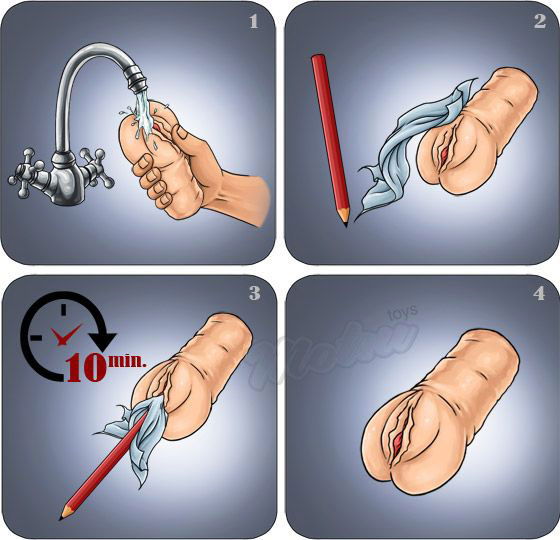 In short, the Young Proprietress's Hospitality onahole by Toysheart is another great onahole. If you're bored with the standard semi-realistic structures many onaholes have, this might be a fun thing to try - but it isn't just for the novelty of it! The ridges pushing around you from three directions at once feel great, and this eager proprietress will bring you pleasure again and again.
Properties
Total length: 16.5 cm
Total width: 6.5 cm
Total weight: 238 gr
Material TPE
Made in Japan by Toysheart
You may also be interested in the following product(s):